California workplace discrimination can be broadly explained as a job candidate or employee is treated unfavorably due to their age (if over 40), disability, genetic information, national origin, ethnicity, pregnancy, religion, race or skin color, or sex. Federal law make it illegal for employers to retaliate against applicants or employees who assert their right to be free of employment discrimination.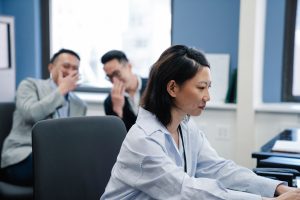 Here, our Riverside workplace discrimination lawyers explain the basics of employment discrimination laws.
Title VII
One of the primary sources of our federal workplace anti-discrimination laws is Title VII of the Civil Rights Act of 1964. This statutes makes it unlawful to discriminate during hiring, discharge, referral, promotion, termination, or any other aspect of employment on the basis of color, race, religion, sex, or national origin. Title VII is enforceable by the Equal Employment Opportunity Commission.
In 2020, the U.S. Supreme Court ruled that the Title VII banned workplace discrimination against LGBT employees on the basis of their sexual orientation. (Prior to that, protections for LGBT workers was only specified in certain states, California being one of them.) Furthermore, federal subcontractors are required to implement affirmative actions to ensure equal employment opportunities regardless of sex, sexual orientation, gender identity, national origin, race, color, or religion. Continue Reading ›