Claims of whistleblower retaliation filed under labor laws in California are going to be weighed by the standard set forth in that law, rather than the more stringent burden-shifting test that was laid out in the 1973 case of McDonnell Douglas Corp. v. Green. This was the recent ruling of the California Supreme Court in the case of Lawson v. PPG Architectural Finishes, Inc.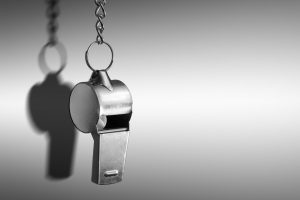 As our Riverside worker retaliation lawyers can explain, Labor Code section 1102.5 stipulates that employers can't make or enforce any rule that prevents an employee from whistleblowing. Employers also cannot retaliate against a worker for whistleblowing. Whistleblowing is defined as the disclosure of information to a government or law enforcement agency when the employee has reason to believe the disclosure reveals a violation of state or federal law by the company.
In the following provision of the law, Labor Code section 1102.6, which went into effect in 2004, lawmakers stipulated that once the worker establishes a prima facie case that retaliation for whistleblowing was at least one contributing factor of the negative employment action, the proof burden is then on the employer, who must prove by clear and convincing evidence it would have happened for legitimate, independent reasons, regardless of the employee's whistleblowing.
But despite this seemingly straightforward law, some California courts weighing whistleblower retaliation cases have been instead applying the proof burden set in the McDonnell Douglas ruling. This standard was established in the context of handling Title VII discrimination claims. The latter test – widely acknowledged to be much more employer-friendly than the standard set forth in California Labor Code – requires that once the employee proves unlawful retaliation, the employer can evade liability by simply showing the adverse action was taken for reasons that were non-retaliatory and legitimate. The employee still bears the burden of proving the reason the employer gave was merely a pretext for illegal retaliation.
The Lawson ruling is considered a victory for future plaintiff/employees. Continue Reading ›